In the world of storytelling, Africa's narrative has often been confined to stereotypes of poverty, conflict, and challenges, overshadowing the incredible offerings the continent has to share with the world. However, Africa boasts a diverse range of cultural richness, development, music, fashion, and yes, even exceptional technological prowess. In recent years, Africa's tech scene has witnessed a surge in innovation and exceptional talent, producing an impressive seven unicorn companies solely in tech.
Despite the remarkable growth in tech talent and capabilities, accessing global job opportunities and showcasing skills remains a challenge for many African tech professionals. The potential to hire and vet talent remotely offers a solution, but most companies still opt to recruit from regions like India, China, and Eastern Europe, leaving African tech talent to struggle with low-paying roles or unemployment.
In a tech-enabled world with the ability to train, source, vet, and recruit talent remotely, African tech professionals should be receiving equal opportunities. Unfortunately, the prevailing narrative connecting technology and tech talent to Asia and Eastern Europe has hindered African talents from receiving due recognition and opportunities, leading to low wages and harsh working conditions.
This is where Gebeya enters the stage! Gebeya, a groundbreaking tech talent marketplace, is revolutionizing Africa's narrative and reshaping the ethical offshoring landscape. With a vision to empower African tech talent and bridge the gap between skilled professionals and businesses seeking their expertise, Gebeya is changing the game with an ethical and inclusive platform for offshoring tech jobs.
Gebeya's primary mission is to empower and uplift African tech talent, providing a level playing field for professionals from diverse backgrounds. Through rigorous vetting and training, Gebeya ensures that only the most exceptional tech talents become part of its talent pool, showcasing the depth of expertise Africa has to offer.
Founded in 2016 by two African diasporas who moved back to Africa from the United States, Gebeya recognized the immense potential of Africa's tech talent while acknowledging the challenges they faced in accessing job opportunities. Since its inception, Gebeya has worked with organizations worldwide, providing exceptional tech talent to over 200 companies, helping businesses build outstanding tech products and achieve their business dreams.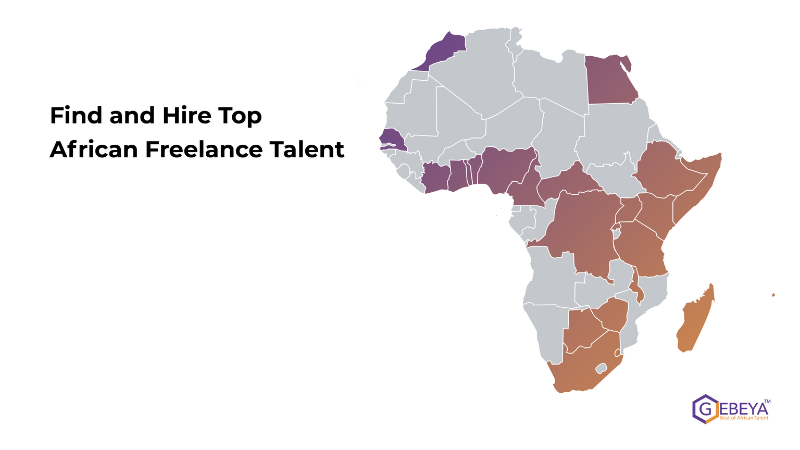 All African Talent!
Our proudest achievement is the level of skills and expertise our talents possess, with 100% completion of projects and high return rates from impressed clients. Notably, all our talents are African, with 30,000 registered talents from 30 countries across the continent.
Gebeya is the driving force behind Africa's digital transformation, enabling businesses worldwide to access Africa's vast tech talent pool, fueling innovation, and propelling Africa's tech industry to the forefront of the global stage.
And this is just the beginning! Gebeya's innovative approach to tech talent offshoring is reshaping Africa's narrative, showcasing exceptional talent, and fostering a more inclusive and diverse tech industry. Our vision for the future includes expanding our impact by connecting with more clients globally, onboarding and vetting a diverse pool of tech talents, and continuing to be a catalyst for digital transformation, empowering African tech professionals, and changing the global tech landscape for the better.
Join us on this exciting journey as we redefine the narrative of Africa and create a brighter future for African tech talent. Sign up with this link and start your tech journey with our talents. https://share.hsforms.com/1NOm1HN9_TjCUKURFEBCsOg3145c